This week's weekly challenge from
A bowl full of lemons
was to create a recipe binder. I've desperately needed to do this for a while now. I get a lot of recipes through emails. When I find one that I like, I print it out and stick it in a basket in my kitchen/dining room with my cookbooks.
The basket is on the bottom shelf.
And yes, that is my kitty in the recipe basket.
I bought some cute file folders at Target, cut them in half, trimmed them to binder size, and then printed out labels for my recipes.
My categories are:
Breakfast
Appetizers, Dips, Dressings & Sauces
Soups & Salads
Main Dishes
Asian
Italian
Mexican
Side Dishes
Breads & Pastas
Snacks
Smoothies & Detox
Desserts
I'm still going through my email stock-pile of recipes I want to try, but I've got most of the ones from the basket in the binder. I've already made huge improvements in this, and I rediscovered some recipes I really wanted to try!
Recipe storage before:
Recipe storage after:
I'm linked up with: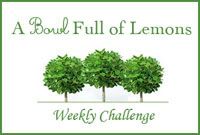 border="0" href="http://tatertotsandjello.blogspot.com"
target="_blank">
src="http://hadfield.smugmug.com/photos/825895175_xmTVA-O.jpg"
alt="Join us Saturdays at tatertotsandjello.com for the weekend wrap
up party!" / />